Thanks to your support, we're moving! Where to?
~~~~~~~~~~~~~~~~~~~~~~~~~~~~
Tax & Accounting Service Since 1990
Ledger Rite is a full-service accounting firm located in Saline, Michigan. Our reputation is built on providing accounting service and tax assistance to small businesses and individuals since 1990. We work directly with our customers the way they like to communicate; in person, by phone, or secure internet.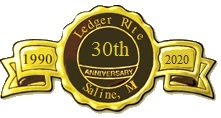 Is your office too small to delegate or hire someone to do the data entry for your accounting? Are you confused about your financial statement or what the numbers mean? Do you need to organize your information to be able to provide proof to lenders at any given time?
We want the job!
In order to build a successful business, you need to understand your finances. Sometimes, it's a bit too overwhelming while you are doing what you do best – and that's where Ledger Rite comes in. Our licensed and trained staff have been helping clients understand their financial information for many years. We take the time to explain, organize, and prepare you for your future. When you grow, we grow!
Looking for someone to help you make sense of the numbers?
Don't Panic!  This is how we start > Read More